Another Timbre TimHarrisonbre
Ensemble Grizzana Concert at the Huddersfield Contemporary Music Festival
Thanks to everybody who came to hear Ensemble Grizzana play two beautiful new works by Magnus Granberg and Jürg Frey. The concert was presented twice, first at the Huddersfield Contemporary Music Festival in November 2017, then again at a special Music We'd Like To Hear concert in London in March 2018.
There were three very positive reviews of the Huddersfield concert, which you can read
here (the Financial Times), here (The Spectator), and here (5:4 blog)
Here are some photographs of Ensemble Grizzana rehearsing at St Paul's Hall, where the Huddersfield took place.
Thanks to Faith Wilson at Huddersfield Contemporary Music Festival and to Graham Hardy, who took the photographs.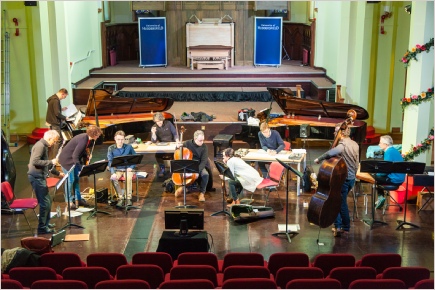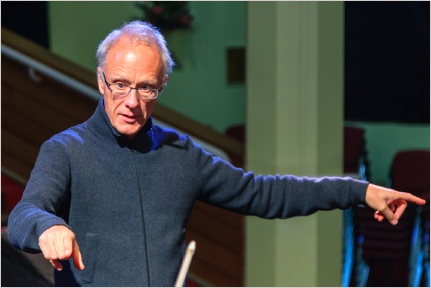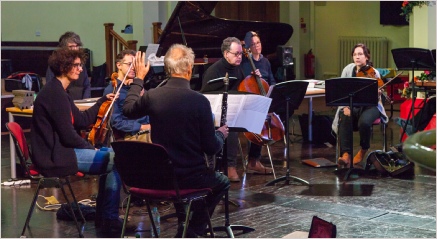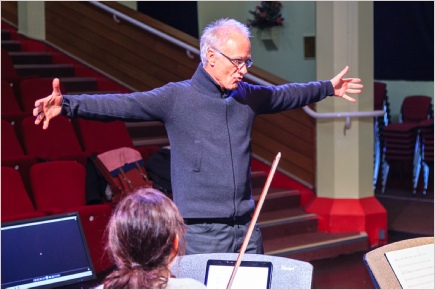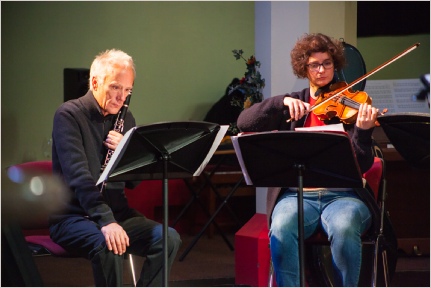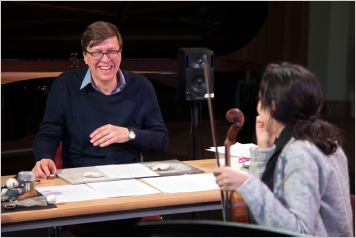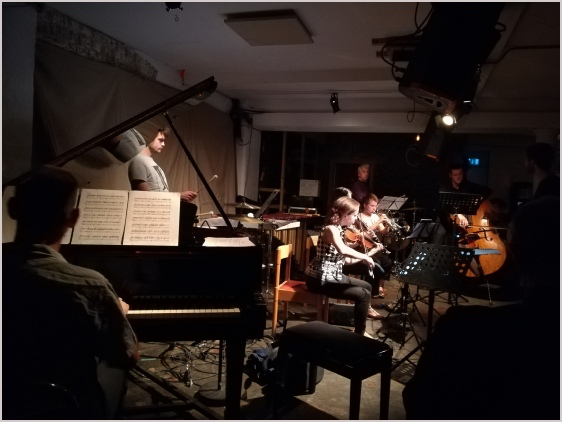 Recent Concerts
Canadian Composers Concert at Cafe Oto, 13th August 2018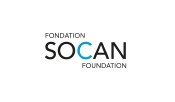 Many thanks to the Socan Foundation, Canada, who supported this concert.
Photo: Michele Pallozo, with thanks
The second batch of Canadian Composer Series CDs was launched at a concert by Apartment House at Cafe Oto in London. There was a large and very enthusiastic audience for nine works by the four composers featured in the second batch of Canadian CDs: Cassandra Miller, Alex Jang, Linda Catlin Smith and Lance Austin Olsen. Apartment House played brilliantly, as you can read in this review by Ben Harper.
The works presented included two world premieres: 'Blackwing' for solo bass clarinet by Linda Catlin Smith, performed by Heather Roche, and 'Shadow Worlds', a graphic score by Lance Austin realised for trumpet, double bass, cello and three percussionists. Other pieces performed were 'momentary encounters (5)' and 'distributed tourism' by Alex Jang, 'Stare at the River', 'Wanderer' and 'Light and Water' by Linda Catlin Smith, and 'For Mira' and 'O Zomer!' by Cassandra Miller, who was present at the concert. Cassandra's 'O Zomer!' was played twice, once at the start and then again at the end of the concert.
Thanks to everyone who came, to the musicians from Apartment House, to Cafe Oto for hosting the event, and to the Socan Foundation for supporting the concert financially.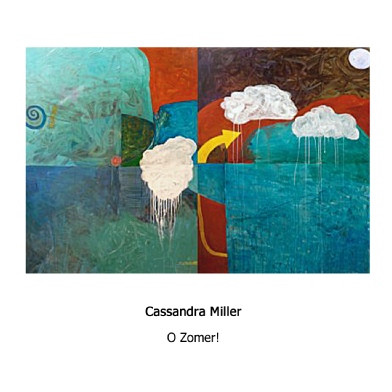 Upcoming Concerts
Tse Trio + Angharad Davies
The Tse trio - Christoph Schiller (spinet) Pierre-Yves Martel (viola da gamba) and Cyril Bondi (harmonium) - follow up the release of their fine CD with a short tour of the UK.
On Sunday 28th October they will lead a workshop-cum-concert in Huddersfield - more details soon.
Then on Monday 29th October they will play at Cafe Oto together with the great violin improviser Angharad Davies. The concert will consist of three sets:
Angharad Davies solo,
then the Tse trio,
then finally a quartet when Angharad plays with the trio.
Tickets, audio extracts and more details on the Cafe Oto website here
Saturday 27th October: Tonus Ensemble at Cafe Oto
Another Timbre is also supporting a concert at Cafe Oto on Saturday 27th October where Dirk Serries presents his excellent ensemble Tonus, with Martina Verhoeven, Kristoffer Lo, Graham Dunning, Benedict Taylor, Cath Roberts, Tom Ward, Colin Webster + Otto Willberg
For tickets and more information, go here
Friday 7th December Viola Torros (Catherine Lamb & Johnny Chang)
Finally on Friday 7th December there will be a Music We'd Like To Hear special where Catherine Lamb and Johnny Chang will perform their own compositions alongside the exquisite music of Viola Torros, which will be presented in the UK for the first time.
This concert will launch a new double CD on Another Timbre. More details soon.