Another Timbre TimHarrisonbre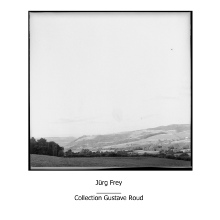 at115x2 Jürg Frey - 'Collection Gustave Roud'
Double CD of pieces engaging with the work of the French-Swiss poet Gustave Roud.
Disc One:
1 Paysage pour Gustave Roud (2007 / 2008) 14:25
Jürg Frey clarinet, Stefan Thut cello, Dante Boon piano
2 Haut-Jorat (2009) 7:51
Andrew McIntosh violin, Jürg Frey clarinet, Dante Boon piano
3 La présence, les silences (2013-2016) 41:07 Dante Boon piano
Disc Two:
1 Farblose Wolken, Glück, Wind (2009-2011) 48:10
Regula Konrad soprano, Stephen Altoft trumpet, Stefan Thut cello, Lee Ferguson percussion
2 Ombre si fragile (2007 / 2008 /2010) 15:09
Andrew McIntosh violin, Stefan Thut cello, Dante Boon piano
Interview with Jürg Frey
Who was Gustave Roud, and why are you so interested in his work?
The poet Gustave Roud lived in the French speaking part of Switzerland from 1897 until 1976. After his studies in literature at the University of Lausanne, he realised that he didn't want to continue the family tradition of working as a farmer. Nonetheless he lived throughout his life, together with his sister, in his parents' farmhouse in Carrouge in the countryside north of Lake Geneva. His oeuvre is relatively small, his Collected Works comprising just three volumes. However, his enormous correspondence, his diary, and his critical writings are a testimony to his prolific consideration of literature and the arts. And in recent years his work as a photographer has also become recognised.
I first encountered Roud's work more than 10 years ago, and the impact of his work on my music has been profound. I feel a close relationship to a poet whose mode of operation and sensitivity make a precise resonance in me. It's a unique poetry that speaks from beginning to end of searching for the essence. I would like to compare his mode of work with that of a painter. Every day he went out, not with an easel, but with his notebook, and he wandered through the landscape as a flaneur, observer, writer, laying the foundations of his work with his notes. For me his work constitutes a kind of 'field recording', not with a microphone and sounds, but with his soul and body, recording his environment in the broadest sense. He perceived existential dimensions in the finest nuances of the weather, the landscape and its inhabitants, and made it the basis of his work.
All the works on the album relate to Roud's work, but only one of them actually quotes from his texts. Do you nonetheless feel that the music is shaped by Roud's work in some way?
When I look at the pieces on the album, then I can easily analyse how Roud's work has left traces in the music. But it's important to point out that it's never a matter of taking a quote or an idea from Roud at the beginning and then writing the piece according to this. It's a much deeper connection. I think my process of working is similar to Roud's process of working: roaming with my sketchbook, taking a movement here, adding some notes there, following an impression, writing a little melody or a rhythmic constellation, deepening a feeling, extending a pitch, waiting and letting it happen, and over a month the possibility of a piece occurs. And then it becomes connected with a picture, a detail, or a sensation that I have encountered in Roud's work.
Ombre si fragile is a piece where I felt during the composition that it would become as fragile as a shadow; it's not just a piece about light and shade, but even more about fragility. Haut Jorat is the name of the countryside where Roud lived. The six pieces are like six photographs: sensations of air, light and landscape. La presence, les silences reflects more a feeling of being alive; standing, walking, breathing, experiencing: I am here.
Roud's landscape is not a wilderness, it's a landscape designed and machined by the daily labour of farmers and by nature. And that is why Paysage pour Gustave Roud is also a piece about form, durations, heavy or light materials, colours. Farblose Wolken, Glück, Wind may be heard as a piece with a portrait of Gustave Roud and his internal and external landscape.
The start of the quotation from Roud that you use in 'Farblose Wolken, Glück, Wind' reads "Quiet joy of being alone with my thoughts my sleep my dreams…" That seems as good a summary of the mood of your music in general as I can think of. Do you think of your music as trying to express a particular mood, or is that a misleading way of thinking about your work?
When I write music, I don't try to express a particular mood. I don't have to worry about that because it's inevitable that the piece will express
a mood. I have more the feeling that my thoughts and sensations are moving within the score, and I have to take care not to disturb this process. At the same time, this process is strongly under the influence of my actions, of my dealing with the material and my decisions. And in the case of the pieces with Gustave Roud, this work takes place within a triangle of the poet, the score, and myself.
When I say that a mood is inevitably expressed, it doesn't mean that it happens inevitably, easily and by itself. Mostly it happens in an unclear way, destroyed or impaired because of uncertainties in the working process. I think a special ability of a composer is to be able to distinguish what is right from what is wrong, and then to leave aside whatever is wrong. At the end I hope to have a piece and to express a particular mood, yes!
There has been an upsurge of interest in your work over the past 5 years. Has this affected you, your music and the way you compose?
No, it hasn't changed the way I compose. But I now have a clearer view on some aspects of my life and work: how much I appreciate having good relationships with my composer friends and colleagues, how important time and the process of waiting are to my work, and how much I'm a family person. And I have a greater awareness that I have to take care of all these things.
process of waiting are to my work, and how much I'm a family person. And I have a greater awareness that I have to take care of all these things.
More Reviews
""Music by the Wandelweiser group has figured prominently in Another Timbre's first decade. As well as 2012's monumental six-disc box set Wandelweiser und so weiter, the label's catalogue is peppered with albums featuring the likes of Antoine Beuger, Dante Boon, Johnny Chang, Axel Dorner, Michael Pisaro and Stefan Thut as players or composers. But at the head of that illustrious list stands Swiss clarinetist and composer Jürg Frey; Collection Gustave Roud joins three previous Another Timbre albums dedicated to Frey compositions, Grizzana and Circles and Landscapes, both from 2015, and Guitarist, Alone from 2016. Consider those alongside further releases on Editions Wandelweiser and on Erstwhile, and it is obvious that Frey is in a purple patch.
This album's music was inspired by the poetry of Frey's countryman Gustave Roud (1897-1976). Frey says he first encountered Roud's work over a decade ago and its effect on his music has been profound. Of the five compositions here, dating from 2007 through to 2016, only one, "Farblose Wolken, Glück, Wind" (=Colourless Clouds, Happiness, Wind), features words written by Roud. On that forty-eight minute track, soprano Regula Konrad sings the title poem in French, accompanied by Stephen Altoft on trumpet, Stefan Thut on cello and Lee Ferguson on percussion, their plaintive tones highlighting the drama of Roud's words. Konrad's voice is effectively another instrument as she draws out the poem, emphasising the sounds of the words over their literal meaning but never failing to convey their emotion.
Of the other four tracks, three are trios while the fourth---and longest---features Dante Boon alone at the piano. Across all of them, it is that word "emotion" which springs to mind repeatedly. As so often, Frey's music is spacious and proceeds at a stately pace, its sustained notes being punctuated by silences to allow time to savour and fully appreciate them. Without making direct reference to Roud's poems themselves, these instrumental pieces create moods that are totally compatible with track titles such as "Le présence, les silences" and "Ombre si fragile." Exquisitely beautiful and peaceful. With their contemplations of the Swiss countryside, the poems of Gustave Roud clearly struck a chord with Jürg Frey, whose equally contemplative music, in which silence is just as important as pitched notes, often embarks on long, slow walks through musical landscapes in which familiar objects take on wholly new identities. Frey's language is clearly rooted in that of the American experimentalists of the 50s and 60s, especially Morton Feldman, but in these pieces inspired by Roud's work, that conceptual world is given much more specificity, even if it remains as refined and remote as ever."
John Eyles, All About Jazz
Of the five works in the collection, the longest, Farblose Wolken, Glück, Wind, is a setting of a text by Roud, delivered by a soprano (Regula Konrad) in long, isolated syllables, and punctuated by equally etiolated contributions from trumpet, cello and percussion. The others are purely instrumental works. Three are trios for various combinations of clarinet, violin, cello and piano, while La Présence, les Silences is for solo piano (Dante Boon), a slow-moving, 40-minute frieze of gentle resonances, repeated notes and the ghosts of harmonic progressions."
Andrew Clements, The Guardian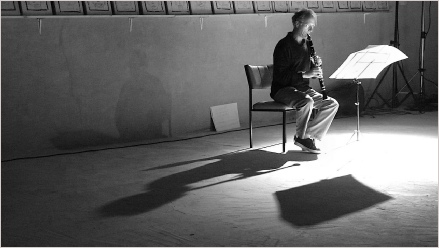 Reviews
Yuko Zama has written a long and glowing review of 'Collection Gustave Roud' on the 'view from elsewhere' website, which you can read here
Other reviews below
"Along with the general notion of "landscape", the words of Gustave Roud (1897 - 1976), a Swiss/French writer/poet, have served as a longstanding source of inspiration for Frey. This is a superbly curated selection of such works, maybe the finest single grouping of later Frey pieces I've heard. Three are somewhat short in length (about 8 - 15 minutes) and are written for similar trios: clarinet/cello/piano, violin/clarinet/piano and violin/cello/piano. These bracket to much longer pieces, 'La présence, les silences' for solo piano and 'Farblose Wolken, Glück, Wind' for soprano, trumpet, cello and percussion.
A favorite aspect of Frey's music, for me, is his total lack of fear to deal with material that might be called conventionally beautiful, short melodies and sequences that "pull at the heartstrings". 'Paysage pour Gustave Roud' (Frey, clarinet; Stefan Thut, cello; Dante Boon, piano) is a particularly moving example of this, the two, three and four note passages just breathing with both melancholy and serene acceptance. As in a landscape, and in common with much of Frey's music in this area, there's a perfect balance of the expected--the way you expect a meadow to continue over a hillside--and the unexpected, as when a path disappears or a rock formation looms into view after an innocent turn. He often sets up small patterns of rhythm or melody, lasting just long enough for the listener to get comfortable, think, "Ah, I know where this is going" then, always gently, he shifts things, extends the duration of a beat, inserts the slightest bit of sourness into a sweet series of notes. This always strikes me as so true to life, always causes shivers of delight and recognition. The set of descending two-note patterns near the conclusion is just devastating. Such a fine work, hard to stop listening.
'Haut-Jorat' (Andrew Mcintosh, violin; Frey, clarinet; Boon, piano) is a suite of five brief passages. It's a bit more somber, more astringent than the previous work, the five sections interrupting any sense of languidness though each is slow, quiet and doesn't feel rushed. More like a set of glimpses through a window out into a cold and lovely landscape, a fleeting thought captured. In a way it reminds me of a tiny re-orchestrated, sliver of 'l'âme est sans retenue I', a similar feeling of the opening and closing of an aperture. Very lovely. 'Ombre si fragile' (Mcintosh, Thut and Boon' closes the two-disc set but echoes the first two pieces in general demeanor. Though sparer and more episodic, the sense of melodicism remains, the strings often playing together in grainy harmonics, the piano offsetting with darker commentary. There's a dusk-like feeling imparted and the piece ends with a lovely lack of resolution, simply evanescing.
These three works surround two of substantially greater length, both profound. I'll say outright that 'La présence, les silences', played here by Dante Boon, is one of the finest pieces for solo piano I've heard in years. For my money, it should be part of the contemporary repertoire. Boon, of course, is an amazingly sensitive pianist and, according to Frey, plays the 41-minute work entirely from memory. Describing it is difficult without falling back into landscape tropes. It's not quite "slow" but is exceedingly patient, shifting from lengthily repeated single notes to bright chords and back, again beginning to give a hint of recurring patterns but never quite getting there. (As has happened in other recent, quiet piano pieces, the action of the pedals--or key levers?--is quite audible. This may be a distraction for some but I find it to be like a ghostly echo, a soft response to the notes and don't mind it at all). It's almost like one, slowly unfurling melody, with few signposts (perhaps only those repeated notes) as reference, more like a path leisurely walked upon but closely observed. Musically, I hear some vestiges of Satie's Rosicrucian period, the 'Ogives' and others, but that's very tangential. The music absorbs utterly.
Frey uses extracts from Gustave Roud's journals that cover a long period from 1916 - 1971 as the text for 'Farblose Wolken, Glück, Wind' (Colourless Clouds, Happiness, Wind), as well as a text of his own, in German, performed by Regula Konrad (soprano), Stephen Altoft (trumpet), Stefan Thut (cello) and Lee Ferguson (percussion). The Roud text is an interesting combination of the everyday, very plain spoken/written and the subtly unworldly. In doing the translation, Frey didn't want any poetic license taken, instead asking us to (possibly) unearth the poetry contained in those basic terms. It was an odd venture, sometimes disorienting as when one could in no way get around the phrase, "J'entends une fanfare" ("I hear a flourish of trumpets"). And, at least to some extent, Frey deals with this literalness in the music, as becomes startlingly clear with the above example. It's not an easy . piece, lasting over 48 minutes and having a slightly more sour tonality than the other works on the album, but it's just as rich. Konrad's soprano has a hornlike quality and meshes wonderfully with both cello and (at first) subdued trumpet. I find the music less "pathlike", more stationary, as if the listener is sitting observing the landscape, and the weather, instead of walking through it. The tones are ghostly, foglike, at least for much of the piece. When that flourish of trumpets arrives, with accompanying snares, it has the shock of a thunderclap in blue sky (easily twenty times louder than anything heard previously in Frey's recorded catalog) but serves as a fine tonic, an understanding about the variation in things, even when one has learned, as I feel Frey has, to view matters with more serenity and acceptance. It's a complex, marvelous work, one that has unfolded in many different ways each time I've listened."
Brian Olewnick, Just Outside
"Ed entrambi vedremo finalmente quello che ho visto: il momento di estasi indescrivibile dove il tempo si ferma, dove il sentiero, gli alberi, il fiume, tutto è colto dall'eternità [...] Le voci dentro un silenzio più popolato del nostro cuore, una musica solenne che ruggisce nelle vene del mondo come sangue.
(Gustave Roud, Air de la solitude, 1945)
Il foglio, la tela, la pellicola, il pentagramma: si comincia sempre da uno spazio idealmente vuoto e potenziale, entro il quale trattenere l'immagine, il suono, il senso apparente della realtà. Gustave Roud (1897-1976) fu poeta del paesaggio, o paesaggista della poesia, trasferì nella parola il sentimento della regione del Jorat, contemplando con la penna alla pari degli occhi.
La quieta estetica musicale del compositore svizzero Jürg Frey aveva già sposato il silenzio delle nature morte di Giorgio Morandi ("Grizzana And Other Pieces 2009-2014", sempre su Another Timbre) e celebra ora il legame con lo scrittore suo connazionale in una raccolta di brani a lui ispirati. Frey ne paragona l'uso della parola alla pratica del field recording, "non con un microfono rivolto ai suoni, ma con l'anima e il corpo, registrando il suo ambiente in senso più ampio".
Le composizioni di Frey non hanno origine nel paesaggio reale cui attinse Roud, ma sembrano piuttosto sorgere tra gli spazi bianchi della pagina scritta dal poeta, operando così su un piano successivo alla rappresentazione verbale e dunque a un livello d'astrazione, se possibile, ancor maggiore. Con questa suggestione ci si può accostare alla sospensione feldmaniana del primo, intenso "Paysage" (2007/2008, per clarinetto, violoncello e pianoforte) e dei sei frammenti titolati "Haut-Jorat", paragonabili a "sei fotografie: sensazioni d'aria, luce e paesaggio": simmetrie perfette tra gli unisoni di clarinetto e violino, filiformi e senza vibrato, e le punteggiature ancor più solitarie e sporadiche del pianoforte, che diviene protagonista nel brano seguente.
I quaranta minuti del solo "La présence, les silences" (2013-2016) sono dichiaratamente una variazione sul tratto che accomuna molte composizioni del collettivo Wandelweiser, del quale Frey è membro storico: un atto di esistenza corporea e musicale, un riflesso del "sentimento di essere in vita", nel quale la pienezza dei singoli toni e dei bicordi eseguiti da Dante Boon equivale a quella di un respiro d'aria pura che si dissolve nel corso di una rigenerante meditazione. Diversamente dai piano solo di Michael Pisaro, qui la presenza del suono non è assolutizzata bensì fa parte di un'esperienza profondamente umana e, al confronto, d'intensità quasi romantica.
La voce è un elemento raro nell'opera di Frey ed è riservato al brano più lungo della raccolta: l'insolita formazione di "Farblose Wolken, Glück, Wind" (2009-2011) comprende, oltre al soprano (Regula Konrad), tromba (Stephen Altoft), violoncello (Stefan Thut) e percussioni (Lee Ferguson); una concezione inedita di quartetto da camera che ben si presta a un'ipotetica summa espressiva della sua figura di riferimento, un "ritratto di Gustave Roud e del suo paesaggio interiore ed esteriore". Dal silenzio affiorano acutissimi armonici, quasi indistinguibili da onde corte elettroniche, come se per prima cosa una matita delimitasse i confini dello spazio acustico, la cornice entro cui si manifestano le figure e le voci rarefatte di un'allegoria cristallizzata, oltre il tempo e la storia del paesaggio idealizzato del poeta. Le sillabe intonate e sostenute dal soprano fanno parte di alcune parole chiave che ricorrono nel diario di Roud, una relazione più diretta e spontanea di ciò che animava la sua ispirazione. Poco prima del minuto 33, lo squillo della tromba e il rullo del tamburo spezzano nettamente l'apparente immobilità dello scenario, conducendo il brano verso una fase più lirica – benché sempre intervallata da brevi pause – dove per qualche istante il canto di Regula Konrad si eleva fin quasi all'intensità delle Sorrowful Songs di Górecki.
È un non-finale, una frase senza maiuscola né punto il trio classico per piano, violino e violoncello "Ombre si fragile" (2007 / 2008 / 2010): ancora presenza e assenza, chiaroscuro sfuggente e malinconico che assieme alla caducità evoca anche la sostanziale incompiutezza di ogni esistenza, sia umana che artistica, nella ricerca di una minima e parziale perfezione. In questo il poeta e il compositore divengono anime indissolubili, umilmente al servizio di un'espressione mai fine a se stessa e per vocazione rivolta, con sguardo docile e benevolo, all'essenza del vivere."
Michelle Palozzo, Ondarock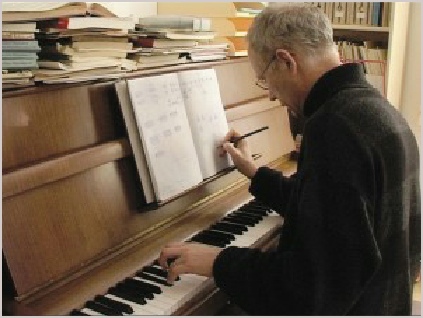 Sale price £11 to end of October